Jonathan Yeo
Jonathan Yeo is acclaimed as one of Britain finest portrait painters. Self-taught, he is particularly well known for his paintings of politicians, actors, artists, performers and even the Russian Mafia. Yeo was born in 1970, the son of Tim Yeo a Conservative MP. He first took up art after recovering from Hodgkin's disease when he was in his twenties. His diverse portfolio of portraiture has included Prince Philip, Kevin Spacey, former Prime Minister Tony Blair, supermodel Erin O'Connor and actor Dennis Hopper.
Yeo's father worked in the city (London) and later ran Scope the disability charity before his sojourn into politics. His mother was a BBC radio producer who also went on to run many charities. Home was a terraced house in Islington where there were close neighbours and he had the freedom to play in the street with the neighbourhood children. As a child he wanted to be a film director.
Jonathan Yeo claims a book that changed him was Vasari's Lives of the Artists. He identified with the subjects of the book even though by his own admission he was a total amateur and rubbish painter when he read it! Yeo is married to the former journalist and actress Shebah Ronay and they have two daughters together. Yeo's favourite building is the Chrysler Building in New York and he attempted to design his wife's engagement ring based on the art deco metal roof.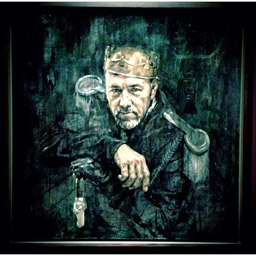 In the 1990s Yeo exhibited often at the National Portrait Gallery becoming known as a contemporary portrait artist. Many of his famous subjects have been portrayed in unusual ways from Kevin Spacey acting the role of Richard III at the start of his tenure at the Old Vic to the artist Damien Hirst wearing a chemical protection suit.
The House of Commons commissioned Yeo to paint portraits of the three political party leaders throughout the general election in 2001. The resulting triptych was titled "Proportional Representation" and featured William Hague, Tony Blair and Charles Kennedy. The size of each sitter's canvas was determined by popularity cleverly reflecting the title and its meaning.
In 2007 Jonathan Yeo was commissioned by the White House to paint President George W. Bush which was later reneged upon. Yeo commenced with a picture creating a collage of the President using the medium of hard core pornographic magazines. The image gained instant notoriety worldwide when it was revealed.
Tony Blair was the subject of an official portrait later in his term of office. In 2008 the finished piece was unveiled revealing a weary looking Prime Minister wearing a red poppy – a symbol of remembrance that struck a chord with the British public with its clear-cut reference to the Iraq war. Yeo also painted a portrait of David Cameron before his election to Prime Minister.
Yeo also created art work built on cosmetic surgery procedures. The work shows the pre and post-operative faces of women as a contrasting element to the traditional portrait. This particular set of paintings gave rise to two solo exhibitions, '(I've Got You) Under My Skin' at Circle Culture Gallery in Berlin and 'You're Only Young Twice' at Lazarides in London.
Yeo is an art consultant at Soho House group and curates the art work of the clubs globally and also designed the infamous, pornographic leaf wallpaper that decorates walls in club premises in London and Berlin. He lives in London and remains popular for commissions and was commissioned by the Queen for a portrait of David Attenborough for the Royal Collection.